Jamie Crooke is an artist, educator, and administrator currently based in Wrightwood, CA. She graduated from the Otis Public Practice MFA program in 2011. Her art practice is comprised of project-based artworks utilizing a service-based model exploring the intersection of urban planning and public health. Throughout her projects and professional practice she aims to create cathartic moments of relief and reflection using pedagogical models, poetics, and a public practice.
Originally form South Florida Jamie studied ceramics at Florida Atlantic University, and went on to develop an installation-based practice. This exploration of materiality and objectivity of artwork ultimately lead to her current practice in Social Sculpture. She is inspired by the post-object practices of artists such as Joseph Beuys and Alfredo Jaar who invite audience participation and engagement as vital roles in the artwork.
In 2017 Jamie began a new project, Drawing Together, inspired by her fellowship with ArtsforLA in cultural policy. She began this project like any other, with a question: how could art contribute to a culture of health for individuals and the community. In 2020 the project became a nonprofit with federal and state 501C3 status. She runs the project as the lead artist and Executive Director. This work work follows the multimodal, system questioning art that she had been making 10 years prior, such as the projects: Pulse and Parcel, GLAD PAP, and Save Yourself.
Below is a selection of artwork that encompasses current public projects, as well as past work in sculpture, installation, ceramic, and other mediums.
Public Projects:
Drawing Together: www.DrawingTogether.city (2017 – current)
Drawing Together grew out of a social practice project, which examined ways in which art contributes to a culture of health for an individual and a city.
From 2017 – 2019, Drawing Together operated as an art and advocacy project comprised of workshops, which were designed for non-artists, where all are  welcome (kids, parents, adults, seniors, non-profit professionals, just to name a few).  All workshops were free and open to the public.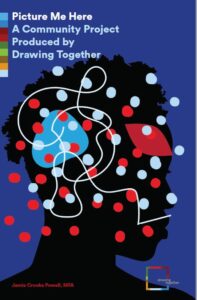 The second workbook written and created by Jamie
You've Been NOTICED (2016) -The interactive installation, "You've Been Noticed" is a hypothetical organization that aims to address the very real psycho-social needs of individuals in our particular culture and time due to violence, racism, and inequalities. Part of the installation will feature small kits in reflective mylar bags that will be available as take-aways located below the mirrored logo. One set on the right will be offered for those that are ready "To DO" something including a "know your rights" handout and other identified items in partnership with local activists. The set on the left shelves will contain information "To Heal" including information from the National Alliance on Mental Illness, the seven stages of grief, and available hotlines all identified in partnership with a mental health professional. The phone number listed was an active, recorded line available for participants to engage.
"All Hearts Beat" (2011) – A participatory community-based project in collaboration with CHAP Care Clinics in Pasadena, CA.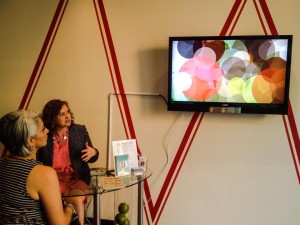 "Pulse and Parcel" (2010) A project that is based off of a pseudo-utopian satire, utilizing a public interest group called GLAD PAP (Global Land Allotment and Distribution Population Adjustment Policy), which collects complaints and holds outreach events.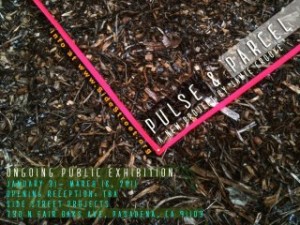 "Save Yourself" (2009) A participatory community-based project in collaboration with Hollywood Sunset Free Clinic in Los Angeles, CA. (2010) http://www.jamiecrooke.com/saveyourself/
Performance:
"Save Yourself: Relay" (2012)
"Auction for Medical Services" (2010)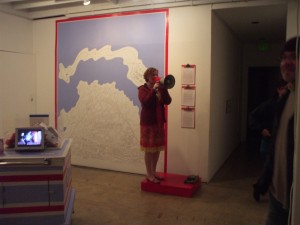 Installation Artwork:
"Living Space"(2007)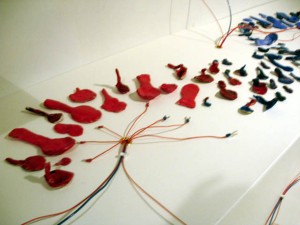 "No. 8 + 10 = Solution" (2005)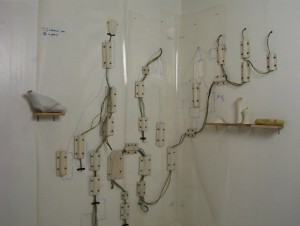 Ceramic Artwork:
"Weighty Tools" detail of pulley (2005)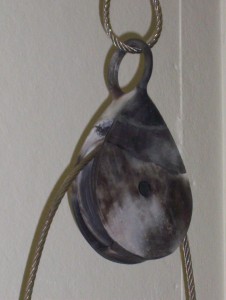 Drawings:
"Still Life: Blender" (2006)